The Grayscale Bitcoin Trust (GBTC) is an investment vehicle that allows investors to trade shares in a trust holding a large amount of Bitcoin. This essentially provides a way for institutions to invest in Bitcoin through the stock market without having direct exposure to the crypto asset. The trust currently holds 654,885 BTC which accounts for almost 3.5% of the circulating supply of Bitcoin.
Investors who buy shares in GBTC have a 6-month lock-up period before being allowed to sell them on the secondary market. The upcoming GBTC unlock is the number of shares that have reached the 6-month mark since being purchased and are therefore available to be traded. The graph below shows the number of shares that are to be unlocked each day. There are around 40,000 BTC equivalent of shares unlocking in the month of July with the largest of 16,200 BTC equivalent of shares occurring on 17th July.
It should be noted that no actual Bitcoin will be released to the spot market to be sold. The only thing that unlocks are the GBTC shares. If the shares are dumped onto the secondary market after they unlock it will cause GBTC to be sold at a further discount. This in turn could make GBTC more attractive than buying BTC on the spot markets and further reduce the buying volume for BTC, which is currently at a low.
The graph below shows the GBTC premium over the past 9 months. The GBTC premium is the difference between the value of the holdings of the trust and the market price of the holdings.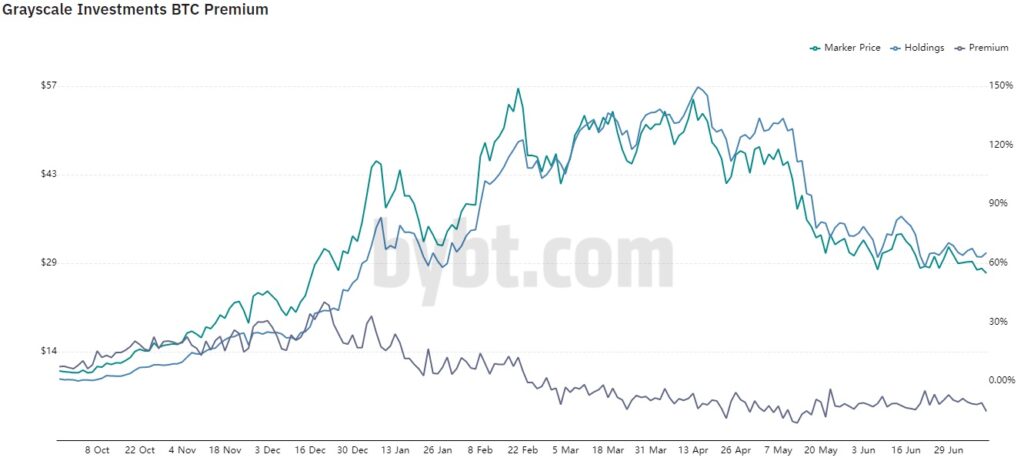 The GBTC shares that are due to unlock this month would have been purchased in February with a premium of 5%-12% and an overall price of $33-$57 per share. If those investors were to sell their GBTC now after the unlock they would be doing so at a price of $27 and a 15% discount. This is the main reason that I don't see investors dumping their shares as soon as they unlock as they will be selling at a sizeable loss.
If you enjoyed this article, why not sign up for our brand new Crypto Newsletter, with a round-up of the last week's crypto news, podcasts, and crucial information that you might have missed! Sign up here!