Clear Junction, who were the payment processor for Binance's Faster Payments, announced on 12th July 2021 that they would no longer be facilitating payments related to Binance. One month later and there is still no direct method to withdraw GBP from Binance to your bank account as a UK customer.
Fortunately there are ways to transfer your funds from Binance to a different crypto exchange that allows UK withdrawals. The exchange I have opted to use is Kraken due to its low fees and good range of supported cryptocurrencies. However, the method I will be using should be similar for other exchanges too.
Navigation
Setting up your Kraken account
This will be the most time consuming step of the process if you do not already have a Kraken account.
1. Head over to Kraken.com and create an account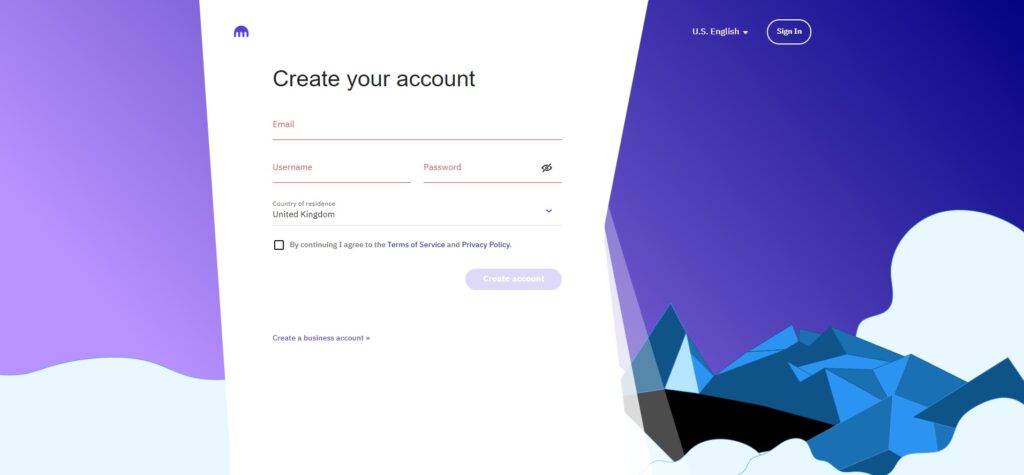 Once you have created an account you will need to verify it.
2. Select 'Intermediate' verification to allow bank transfers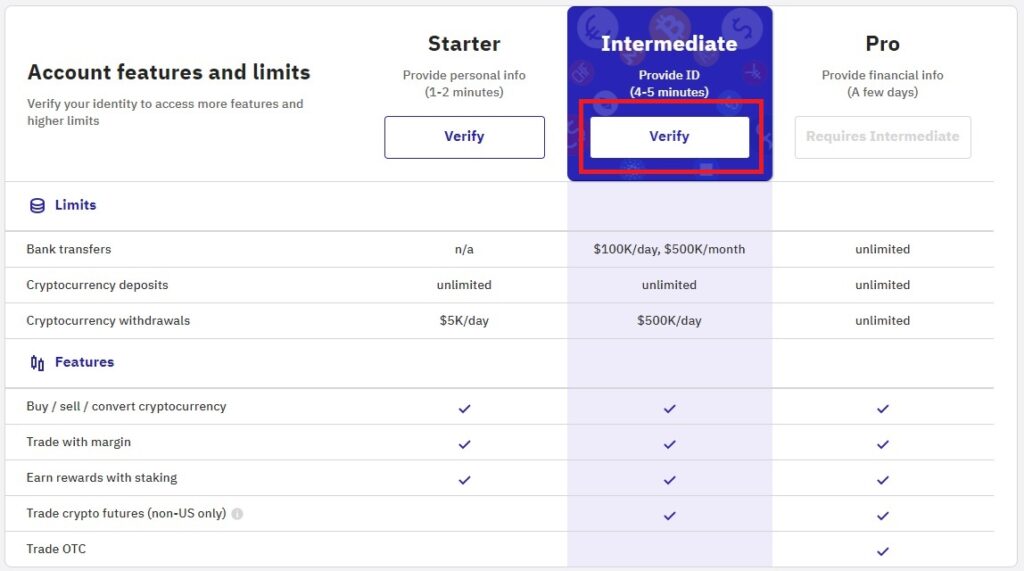 The documents you may need to verify your account for trading are:
Valid Government Issued ID: (Choose 1)
Passport
Drivers License
National Identity Card
Proof of Residence: (Choose 1)
Bank statement
Credit card statement
Utility bill
Payroll statement
Insurance statement
Tax document
Residence certificate
Face photo: (Choose 1)
Webcam picture
Upload from PC
The verification of these documents could take up to 24hrs so be sure to have this step done in advance.
Link your bank account to your Kraken account
Navigate to the 'Funding' tab along the top of the web page
Click the 'Withdraw' button
Select 'Pound Sterling GBP' from the list
Select 'Clear Junction (FPS)' in the 'Withdrawal type' field
Click continue to link your bank account
6. Fill in the details of your bank account
Once this is filled out and submitted your bank account will now be linked to your Kraken account to allow deposits and withdrawals.
Choose a crypto with low withdrawal fees on Binance
This step will require you to choose a crypto that is supported by both Binance and Kraken. It is also important to choose the one with a low withdrawal fee on Binance. These fees are listed in the website below:
https://www.binance.com/en/fee/cryptoFee
The crypto I will be using for this guide is Stellar. Its withdrawal fee is 0.02 XLM which equates to £0.0058 at the time of writing.
Create a Stellar (XLM) deposit address on Kraken
Click the 'Funding' tab
Click the blue 'Deposit' button
Search for 'XLM' and select it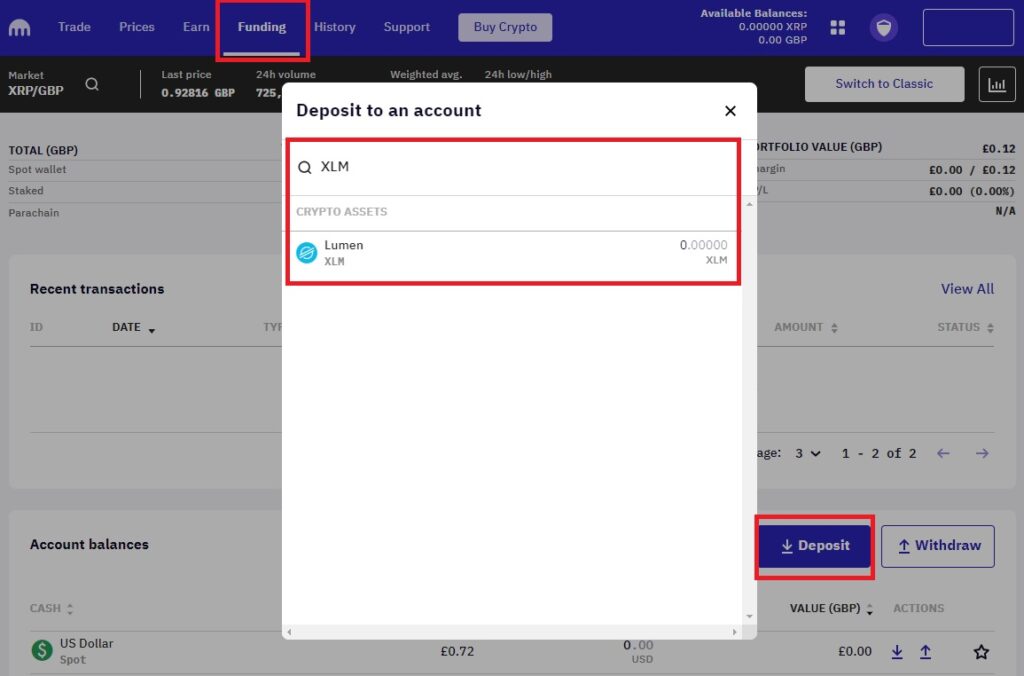 4. Click the 'Generate deposit address' button
A 'Deposit address' will be generated alongside a QR code containing the address and a 'Memo' number. These will be used in the later steps so keep this web page open.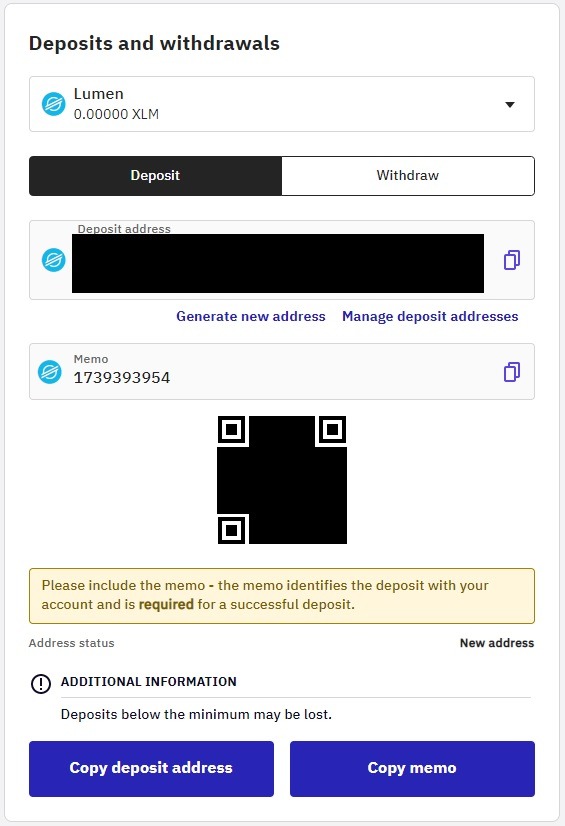 Convert all of your funds on Binance into Stellar (XLM)
This can be done in 2 ways:
Direct – find the XLM pair to the cryptocurrencies you hold and convert them to XLM. The only XLM pairs currently on Binance are XLM/BTC, XLM/ETH and XLM/BNB. If you hold any cryptos outside of these you will need to follow the indirect method below.
Indirect – if an XLM pair with the crypto you are holding doesn't exist you can convert your crypto to BTC then convert BTC to XLM.
Now all of your funds on Binance should be held in Stellar (XLM).
Transfer XLM from Binance to Kraken
I will be doing this step using my Binance mobile app as it has the ability to scan the QR code for your Kraken XLM deposit address. If you are doing it through the Binance website or desktop app it will be the same process.
1. Navigate to your Binance wallet
2. Click 'Withdraw'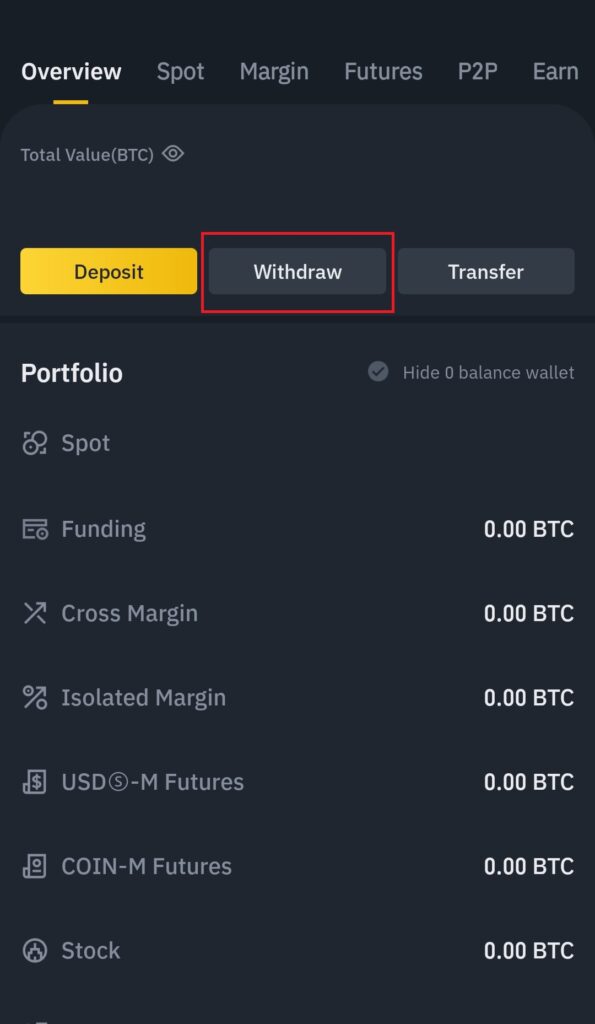 3. Search for 'XLM Stellar Lumens' and select it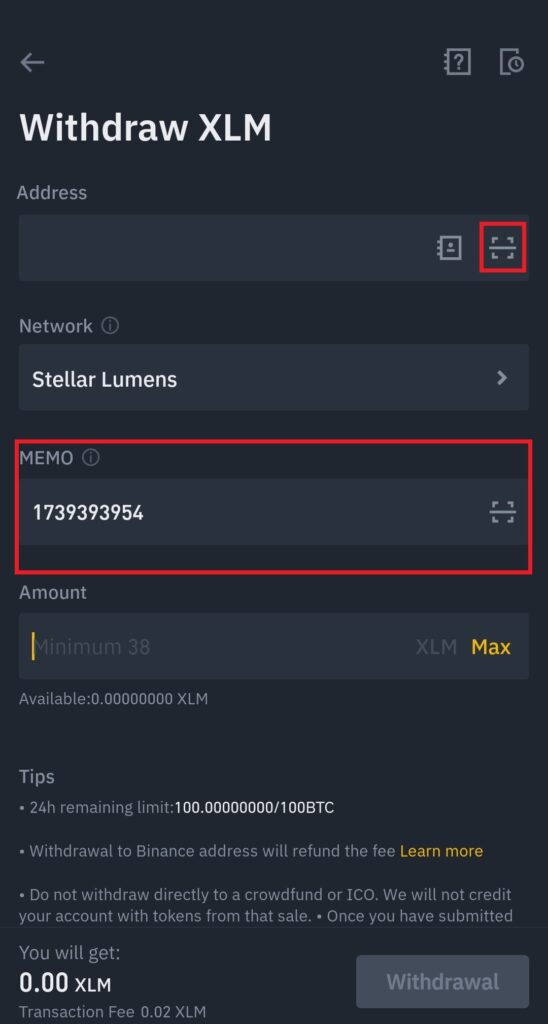 4. Enter the Kraken wallet address
Scan it using the icon in the red box on mobile
Copy and paste or enter it manually if using the website/desktop app
5. Select 'Stellar Lumens' in the 'Network' field
6. Enter your 'Memo' number that Kraken generated
7. Enter the amount of XLM you want to transfer – Click 'Max' button if you want to transfer all your XLM
8. Double check all the information you input matches the information from Kraken
9. Click 'Withdraw'
Once the transfer process has initiated it may take a few minutes for Kraken to receive the crypto.
Convert XLM to GBP
Use the XLM/GBP pair to convert your XLM into Pounds
Once converted it is ready to be withdrawn to your linked bank account.
Withdraw GBP to your bank account
Click the 'Funding' tab
Click 'Withdraw'
Select 'Great British Pounds'
Select 'Clear Junction (FPS)' in the 'Withdrawal type' field
Select your bank account in the 'Withdrawal account' field
Enter the amount of GBP you want to withdraw
Click 'Withdraw GBP'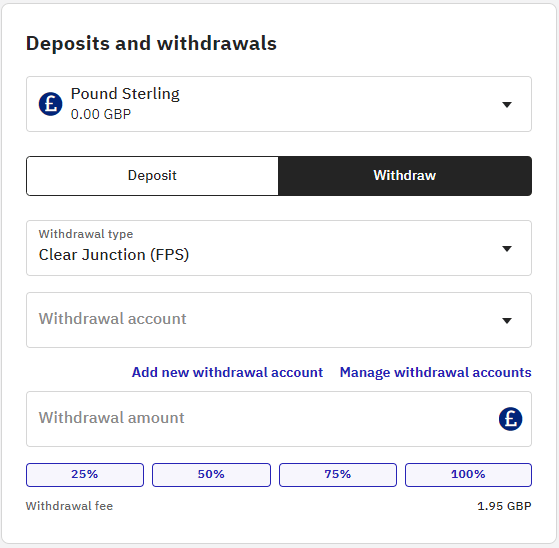 A payment of £1.95 will be deducted from your withdrawal for the use of Clear Junction (FPS).
The total cost of withdrawing the funds from Binance to your UK bank will be:
£1.95 – Clear Junction (FPS) payment
£0.0058 – XLM withdrawal fee
Any exchange fees incurred from converting to XLM and converting XLM to GBP
If you enjoyed this article, why not sign up for our brand new Crypto Newsletter, with a round-up of the last week's crypto news, podcasts, and crucial information that you might have missed! Sign up here!