On the surface, there are several very obvious reasons for the significant differences between the atmosphere at the Labour and Conservative party conferences. Labour enjoyed a massive turnaround in popularity during the general election campaign, they sprung from a 24 point polling lead (according to one poll) to a five-point lead in a recent BMG Research poll. However, the fundamental difference between the two is the engaged membership, not only at election time, but at the party conference. Labour vote and debate on policy and party rules, whilst the Conservative party conference could be viewed as a series of speeches and discussions, with members unable to influence the party from the bottom up.
Westminster voting intention:

LAB: 42% (+4)
CON: 37% (-2)

via @BMGResearch, 26 – 29 Sep
Chgs. w 15 Sep

— Britain Elects (@britainelects) October 8, 2017
Since the election result, Theresa May has been circled by rumours that senior Cabinet ministers are plotting against her, including Boris Johnson and Phillip Hammond. Following her much-maligned closing speech at the Conservative Party Conference, Grant Shapps became the public face of a group of backbenchers calling for Theresa May to resign, but leadership has publicly got behind her.
Boris Johnson, told rebelling Tories to "get behind the PM" and focus fire on Labour leader Jeremy Corbyn. In a message on a Tory WhatsApp group, the Foreign Secretary wrote, "We have just had an election and people are fed up with this malarkey."
There have been grumblings ever since the Conservatives, led by Theresa May, threw away a seemingly insurmountable polling lead to a resurgent Labour party. Boris Johnson has continued to undermine the Prime Minister putting forward his own Brexit negotiating positions and 'red lines', but right now he seems to be unsackable.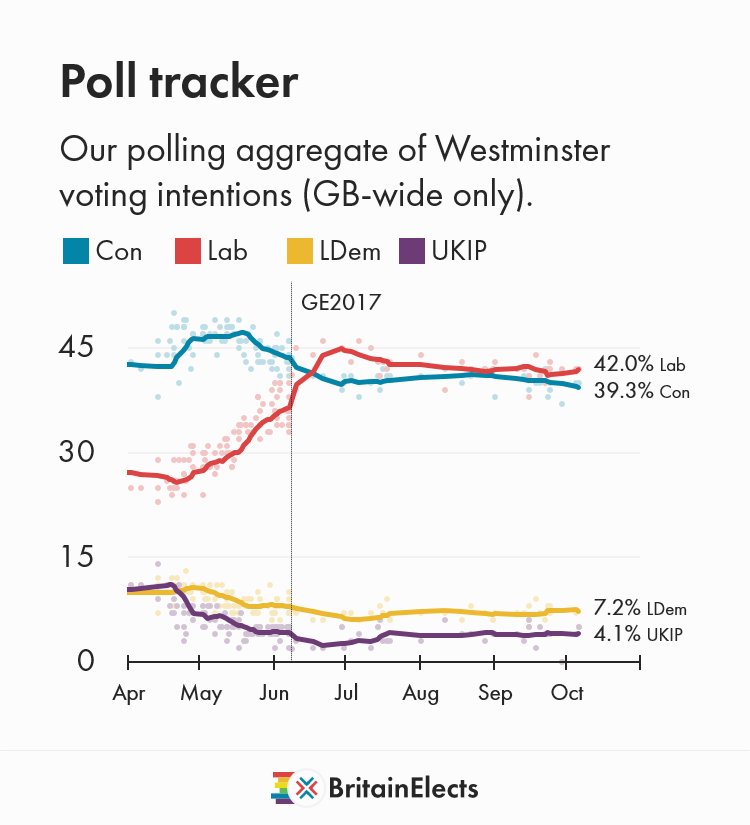 That isn't to say that Labour haven't had their own internal disputes. Corbyn's leadership now seems assured, but the party is still not united over their Brexit stance, with both MPs and members split between leave and remain voters. The leadership seems somewhat united over the 'jobs first Brexit', whilst remaining committed to leaving the European Union – exactly what that would entail remains ambiguous.
The two major parties are coming into Conference season in vastly different circumstances. Labour riding a wave of unexpected electoral gains, that have been touted as a victory by pundits and politicians alike, have seen their membership grow to 596,00 (higher than it ever was under Tony Blair). In the four days after the general election, they added 35,000 members to their books. Momentum, the pro-Corbyn campaign group have also seen their membership explode to more than 30,000 since their inception in 2015.
In contrast, the Conservative party reportedly fear that their membership could drop below 100,000. Conservative Home reported that,
"John Strafford of the Campaign for Conservative Democracy estimates that membership is now "around 100,000".  His assessment and our information run pretty much in tandem.  Which leads to the inevitable question: as Labour membership soars upwards past 500,000, will 2018 be the year when Tory membership drops to below six figures?"
In an eve of conference interview in Tribune magazine, Trafford commented,
"The party is facing oblivion. If you take the fact only 10 per cent of the membership is likely to be very active they will not have enough people on the ground to fight an election – they won't even have enough people to man polling stations on the day."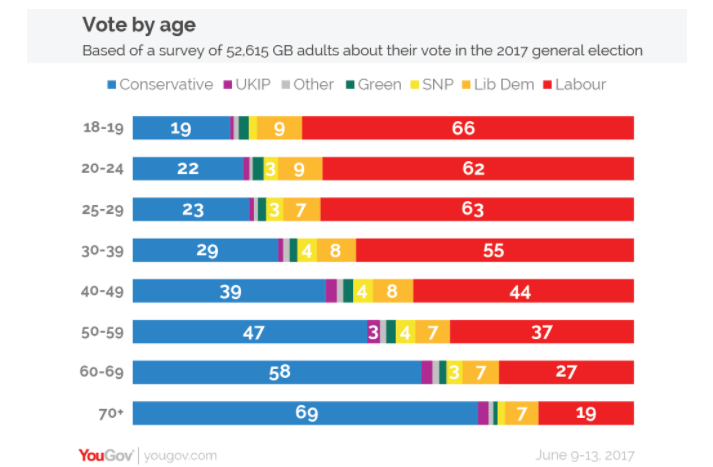 The age demographics are not favourable for the Conservatives here. Around half of the Conservative Party's members are over 65 and only 5% are 18-24. The Conservative vote share in the 2015 General Election amongst 18-29-year-olds was a respectable 32% to Labour's 36%, but by 2017, that share had dropped to around 20% compared to Labour who took almost 2/3rds of the vote.
Conservative party membership has fallen below 150,000 and for the latest election, they raised just £1.5 million from the party membership compared to Labour's £14 million. This meant that even though the Conservatives out-did Labour in terms of individual donations and fundraising, £19.6m compared to £15m, Labour had £8 million more to spend thanks to the size of their grassroots movement.
In our recent interview with Sam Ancliff of Activate (the Conservative youth group), we discussed the idea that grassroots engagement is the true difference between the party Conferences. He argued that whilst there are no substantial votes taken on policy issues at the Conference, there is a robust and substantial discussion of ideas at many of the fringe events. However, this bears little noticeable impact upon the policy-making decisions made in the upper echelons of the party.
In contrast, the Labour conference was packed with 1,200 delegates eager to have their say in how the party should be run. There were votes for two seats on the party's National Constitutional Committee, an NEC  statement setting out the leadership's Brexit position, and many more policy areas. A rule change made in 2016 allowed delegates to propose a vote on a 'reference back' of policy positions. There was, amongst others, a successful motion to  'reference back' a section on welfare policy because it failed to "explicitly commit to scrap all planned welfare cuts",  as well as an overwhelming vote against the 'reference back' of party policy that the UK should "remain in the customs union and the European Economic Area". Momentum were particularly organised at this year's conference, using their M.app to let delegates know when and where votes and debates were taking place via their phones.
This is where the difference lies, in the grassroots. Delegates and party members who attend the conference have little to no substantive way to impact the party by attending the conference. The contextual influence on this year's conference season exacerbates and magnifies these differences, but the key factor here is the absence of grassroots democracy. People who are passionate about politics and a political party want to feel they can influence the party they campaign for and support, they want to be a part of the running of the party (and ultimately the country) and that is what the Labour Party is offering once again under Jeremy Corbyn. The Conservatives need to take note or risk their membership figures falling further behind.
If you enjoyed what you read here you can follow us on Facebook, Twitter, and Instagram to keep up to date with everything we are covering, or sign up to our mailing list here! If you want to hear more from us you can check out our podcast, Chatter, or subscribe to us on iTunes here.